Please note: This Avian Influenza outbreak is continuously evolving. We will update our guidance as needed.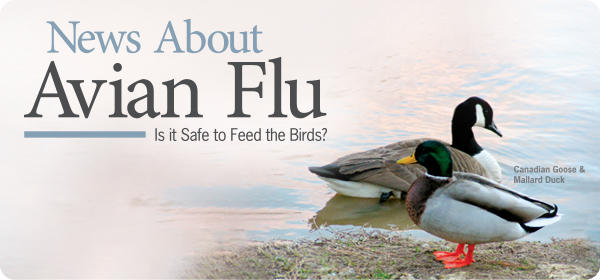 What You Need to Know
You may have heard about avian influenza (or "bird flu") and the development of this disease in North America. At this point in time, wildlife and health experts say you may continue feeding the birds. Here are the facts as we know them today.
Recently, on March 10, 2023, CFIA confirmed the presence of highly pathogenic avian influenza (AI), subtype H5N1, in a poultry flock in southern Ontario. Since then a few other cases in other parts of Ontario have been reported in poultry flocks. There have been no human cases of avian influenza resulting from exposure to wild birds in North America. Detection of highly pathogenic avian influenza (H5N1) in Canada 2021-2022
The current 2021 to 2023 avian influenza in Canada and the US is a highly pathogenic avian influenza (HPAI H5N1) and has been detected in numerous outbreaks across North America. It is a naturally-occurring virus especially prevalent among wild aquatic birds such as ducks, geese and shorebirds and has been shown to affect commercial and backyard poultry with high mortality.
Feeding Wild Birds in Your Backyard
The use of bird feeders is still safe, but it is recommended they be removed from areas that are open to poultry and other domestic animals. If you care for poultry, prevent contact between wild birds and poultry by removing exterior/outdoor sources of food, water and shelter that attract wild birds.
Backyard bird feeders and baths should be cleaned regularly using a weak solution of domestic bleach (10% sodium hypochlorite). Ensure they are well rinsed and dried before re-use.
Source: Government of Canada - Environment & Natural Resources: canada.ca/avian-flu
Recommendations to Prevent the Spread of Avian Influenza in Wild Birds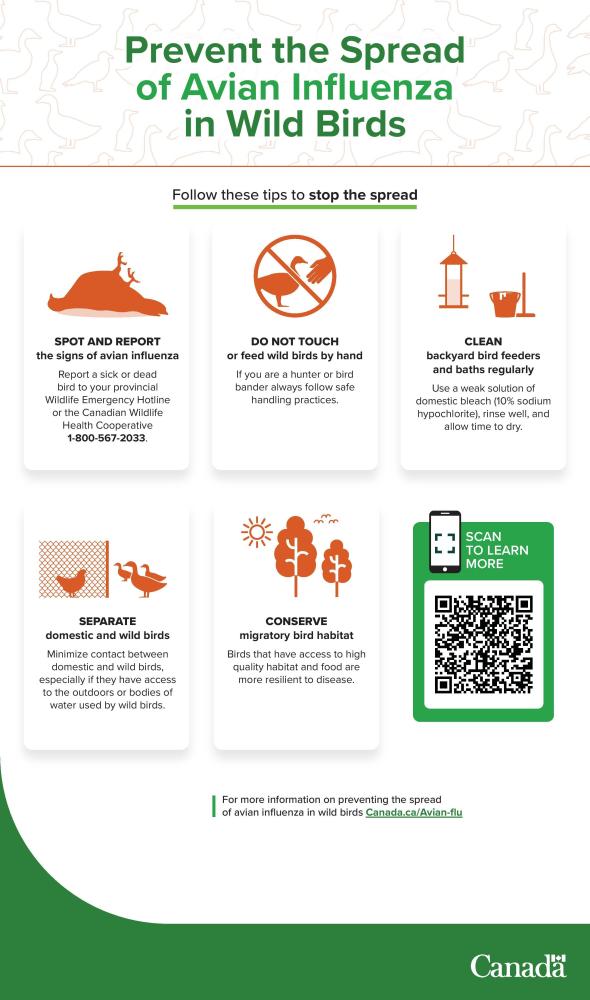 To practice the hobby of bird feeding safely and to ensure the birds' overall health, it is always recommended you clean your bird feeders regularly with a solution of one part bleach and nine parts water. Click HERE for recommendations on how to best keep your feeders clean.
Report Sick or Dead Birds to:
In Ontario, to the Ontario regional centre of the Canadian Wildlife Health Cooperative at (866) 673-4781.
In Québec, to the Ministère des Forêts, de la Faune et des Parcs at 1-877-346-6763.
The Ottawa Valley Wild Bird Care Centre has provided an update with regards to bird admissions. Please visit their website for more information here.
Sources:
Avian Influenza in Wild Birds - Government of Canada
Help Respond to the Avian Influenza Outbreak - Birds Canada
Avian Influenza Virus - Canadian Wildlife Health Cooperative
Avian Influenza Outbreak: Should You Take Down Your Bird Feeders? - The Cornell Lab